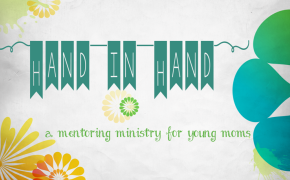 Mentoring and support for expecting mommies and mommies with young children.
A Ministry for Mommies
Hand in Hand is a ministry for expecting Mommies and Mommies with children birth through 1st Grade. It's based on Titus 2:3-5, where the older women are exhorted to train and mentor younger women. We want to partner with young moms as they strive to be Godly women in all their relationships. We believe that when we experience God together, lives are changed and transformed.
This ministry includes care and concern for these women in the following ways:
•involvement in baby showers
•small care groups where we pray for and pursue relationships with each other
•providing Mommies'-Night-Out dinners to encourage fellowship and discuss relevant and important issues from a Biblical perspective,
•consistently praying for these young women.

Our focus this year is on:
•developing unity and relationships by spending quality and quantity time with moms,
•encouraging the study of God Word as our source for knowing God and His Truth,
•creating community connections by reaching out to moms who may not participate or feel included,
•experience God as we seek Him in relationship together.