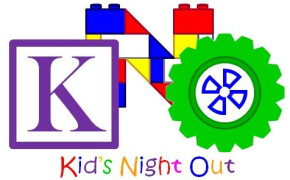 A Special Time
Once every 6-8 weeks, these families drop off their children for 3 hours (child with special needs as well as siblings) and have a night out to spend as they choose. The caregivers get a much needed night out while their children are cared for in a fun environment. Many families admit that KNO is the only time they leave their child in the care of someone else because it's the only time they know their child will be properly and safely cared for. The children look forward to these monthly nights out as well and are treated to pizza, games, movies, crafts, and a bounce house.
Jesus was the perfect example of how to befriend the outcast or downtrodden, and our culture continues to fall short in being kind or accepting of those who are different or not considered "normal". These families deal with daily financial, emotional, and physical challenges when caring for their child. Respite programs like KNO are few and far between and the families we serve are overwhelmingly grateful for the service we provide them.
Contact us for more information
Here are a few comments these families have shared about their experience with KNO:
"The volunteers that give their time are like angels to us. There is no other situation where I can leave my kids in the care of others and know beyond a doubt they are in good hands. KNO is the highlight of our month. Jaycob (who is unable to speak) squeals with joy when he sees the church and starts jumping in the seat of his car. If we are traveling by the church when it's not KNO we have to distract him or change our route so he doesn't get upset! His twin siblings, now 7, know KNO is something special just for them. They tell their friends they get to go to this special event because their brother is special. KNO is important to our 18 year old son as well because he gets a night at home to share with his friends without the noise and chaos of the other children. His best friend can even tell you the dates of each KNO and never forgets! As a parent, this is our only opportunity to go out stress free- it doesn't matter what we do for 3 hours, it's just about having 3 hours to ourselves. KNO is, and always will be, one of the best things our family has been part of!"

"My kids love KNO! They have actually formed bonds with the adults they are paired with and look forward to seeing and talking to them each month."

"KNO gives Jordan a social outlet he would not normally have. He loves to "hang out" with his volunteer and is sad whenever he has to miss it. Thank you so much Altamesa Church of Christ for this ministry. Our son brings us great joy but sometimes we just need a break and he also needs a break from home and away from us to interact with others."

"As a single mom I am so appreciative to have Hannah be included in such a great ministry with such caring individuals. Hannah has so much fun when she is there each month and your respite night allows me to be a better parent by giving me a few free hours each month to have some alone time, while knowing Hannah is safe and playing happily! We live in Granbury and I hope to one day see other churches in our area following in your lead where special needs ministry is concerned, but want to thank you for your ministry to us even though we don't attend your church."
The volunteers of this ministry are blessed as well as they spend time each month with these special children.
"I have been a volunteer for Kids Night Out for a year now. I am usually assigned to one special needs boy who is 8 years old. When I first met him he was very introverted and quiet. He mostly sat in front of the television and watched videos. We would try to get him to jump in the jumpy house, play with toys or do crafts but he refused. He was just interested in watching the same video over and over. I thought it would always be that way but last time we met I really saw a change in him. He went to the other room got into the jumping house and began to jump with the other children. He also enjoyed bouncing on a big ball with his sisters. Later, he sat on the floor and played with toys with another child. I was really amazed at all of this. I believe these changes have occurred because this little boy feels loved and accepted in the environment provided by this wonderful ministry. I am thankful that our Church has this ministry. It is truly a blessing to the children, their parents and the volunteers."
"Getting to know these kiddos and their families makes me think of them all through the year. I lift them up in prayer every time they come to mind."
"As a volunteer, I love that my children get the chance each month to play and interact with other children who are a little different from them. I feel this is a valuable experience they would not get anywhere else."