2019 Generations Golf Tournament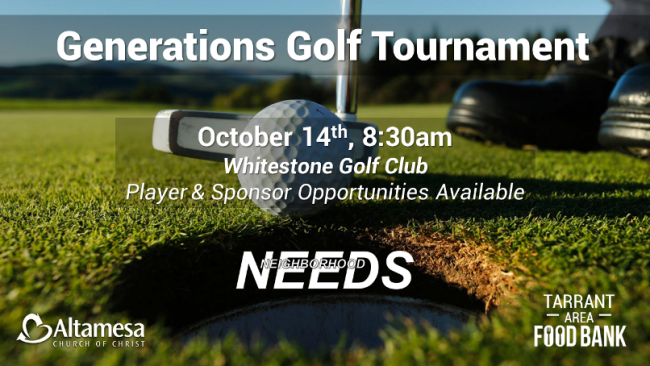 The Generations Golf Tournament wants to encourage positive inter-generational relationships in our community while supporting Neighborhood Needs and the Tarrant Area Food Bank. Parents, Grandparents, Teachers, Coaches, and Mentors can have a life changing impact on the lives of young people and we want to create an opportunity to form and strengthen those relationships through the game of golf. Thank you to all those that serve in these roles.
LOCATION
Whitestone Golf Club
10250 Benbrook Blvd in Benbrook
INFO
4-player scramble. Prizes for long drive, closest to pin, hole-in-one, winning team, etc. Breakfast and lunch included. Drinks and snacks on the course. Raffle prizes and hole games. Special incentive for groups with 25, 30, and 35+ years player age gap.
COST
$75 per player
$300 per 4 player team
Sponsor Options (4 player team included with each level)
Level 1: Table Sponsor - $450 (signage at lunch table)
Level 2: Hole Sponsor - $600 (signage at tee box)
Level 3: Prize Sponsor - $1000 (hole signage, awards announcement)
Level 4: Title Sponsor - $2000 (event signage, announcement)
Raffle and Prize donations accepted.