Mission 25 (M25)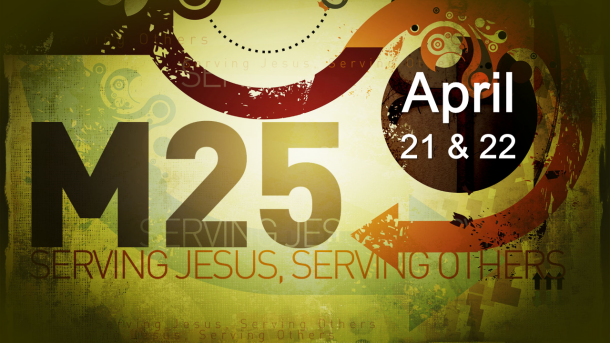 Mark your calendars for April 21-22!
Mission 25 (M25) is our congregational service weekend. The ministry staff envisions this weekend being inspired by the teachings of Jesus found in Matthew 25. Jesus paid attention to the sick, hungry, thirsty, strangers, widows, orphans and other often forgotten members of society…and we (the church) should too. Sign up in the Gathering Room to be a part of M25!
2018 M25 Projects
Saturday, April 21
Neighborhood Needs
Join the Saturday team and help provide food, clothing and love to those in need from our local community.
Assistance for Widows/Widowers/Shut-Ins
Join this team of people that will go to the homes of our widows, widowers and shut-ins and help them with a checklist of spring-cleaning items. No specific skills required! Just a heart willing to assist some of our senior saints with minor home and lawn maintenance projects.
Garden Project
Bring new life to our grounds. We will focus on the north green space (between our parking lot and the Hulen Bend Apartments) doing fence repair, garden clean up and drip line irrigation work. Bring your work gloves and join the fun.
Sunday, April 22
Prayer Bear
Help Cook Children's Pastoral Care department by donating NEW, WELL-MADE stuffed bears (to meet hygiene requirements and remain usable during extended hospital stays) of medium size that would be easy for children to hold. These bears are prayed for, blessed, and then given with a prayer to ill or injured children to provide comfort and help decrease anxiety during their hospital stay at Cook Children's Medical Center.
Blood Drive
Donating blood is an overlooked opportunity to care for the sick. Only a small percentage of people are eligible to give and even a smaller percentage of that number actually give annually. Come and find out if you are part of this special group. Roll up your sleeve and donate!
UnBound "Go Bags"
UnBound Fort Worth is an organization that works with the local community to fight human trafficking. This ministry focuses on youth prevention, professional trainings, community awareness, and survivor advocacy. UnBound has a partnership with local law enforcement, providing them with "go bags" full of items that will meet the immediate needs of rescued victims. This year we will collect items for the "go bags" from April 8th through April 22nd. Bring your donated items (see list below) to the UnBound table in the Gathering Room on Sundays during this time. Volunteer to sort items and fill bags on April 22.
Toiletries: shampoo/conditioner, bath wash/shower gel, brush/comb, deodorant, toothbrush/toothpaste, feminine products, lip gloss, lotion/hand cream, travel-size Kleenex
Clothing: flip flops, fuzzy socks, t-shirt, sweatpants
Snack: non-perishable snack (like a granola bar), bottle of water
Miscellaneous: small, soft blanket (small enough to fit in the bag along with the other items)