This ministry has adapted its work to keep volunteers and guests healthy. Click the link at the bottom to contact us for more information.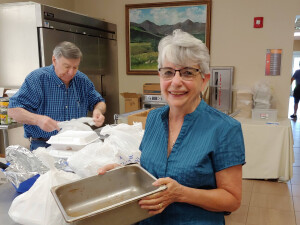 Our ministry provides lunch for people in our community from 10:30 am to noon every Tuesday. Our focus is to build relationships with the poor of our community and minister to their needs. We desire to change lives by showing God's love through hospitality and encouraging our community through making and being friends. Many of the people that come for lunch are regular attenders because after their first meal they realize they are accepted regardless of who and where they are in life. They experience God through the relationships they develop over a meal, and their lives are being transformed because of the interest volunteers show in their lives through conversation and prayer.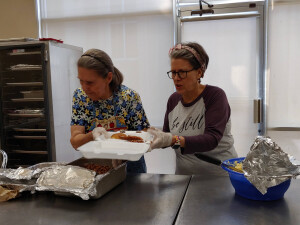 One story is of a young woman who came and was sitting alone. One of the volunteers sat down across from her and asked what was going on in her life and how she was doing. With tears in her eyes the young woman began to talk about the struggles she was having. She explained that the tears were from the interest the volunteer took in her by sitting down and talking to her. God uses people to show his love. He uses a plate of food to set the table for conversations that show his love and transform lives.
The Community Lunch ministry also hosts three give-aways: Easter Baskets, School Supplies, and Toys at Christmas.
Interested in being God's hands and feet? Come join us on Tuesdays.